ABOUT THE DESTINATION
Considered the gateway city to Australia, Sydney is memorable far beyond its iconic landmarks of the Harbour Bridge and Sydney Opera House. As one of Australia's oldest, largest and most beautiful cities, Sydney is surrounded by one of the most beautiful harbours in the world and a coastline sprinkled with golden beaches.
A vibrant city, renowned for its scenic beauty and cosmopolitan lifestyle, Sydney offers delegates the chance to experience the high life at a slow pace. From fine dining on the Harbour's edge, bush walks that uncover secluded bays and breathtaking views, sailing around the Harbour, weekend markets in the Historic Rocks precinct or visiting one of Sydney's 70 beaches, Sydney has something for everyone.
The stunning Sydney Opera House provides the perfect backdrop for photos on Sydney's Harbour and is classified as one of the cultural hubs of Sydney, offering an extensive selection of dance, theatre, drama, opera and concerts to delegates.
Delegates will also have the opportunity to view one of Australia's most photographed attractions, the Sydney Harbour Bridge. As the world's largest steel arch bridge, the bridge is one of Sydney's natural icons allowing delegates to experience the world's finest harbour and views of the city.

CONFERENCE HOTELS
The Conference Secretariat has arranged special rates at hotels within a short walking distance of the Sydney Masonic Centre.
The Vibe Hotel Sydney ****
11 Goulburn Street, Sydney NSW 2000
Telephone: +61 2 9282 0987
Standard Room: $175 per night
A unique Sydney hotel offering chic accommodation in the heart of Sydney, Vibe Hotel Sydney exudes the style of this fantastic city. The hotel is perfectly positioned for you to easily discover Sydney's vibrant CBD fringe villages of Surry Hills, Darlinghurst, Chinatown and the Sydney entertainment precinct.
Hotel Ibis World Square ***
382-384 Pitt Street Sydney, NSW 2000
Telephone: + 61 (0) 2 8267 3111
Standard Room: $145 per night
Located right in the heart of Sydney, next to the World Square Center the hotel is within an easy walk to Darling Harbour, Cockle Bay, Sydney Convention and Exhibition Centre and Chinatown. The hotel is close to Sydney's shopping precincts, the Entertainment Centre, Capitol Theatre and George Street cinema complexes. Enjoy a variety of restaurants for all tastes and budgets, all within walking distance.
The Y Hotel Hyde Park**
5-11 Wentworth Ave
Sydney 2000
NSW Australia
Telephone: +61 2 9264 2451
Double Deluxe Room – $107 per night
Twin Deluxe Room – $114 per night
Y Hotel Hyde Park is a great value bed and breakfast hotel ideally located in the CBD opposite Hyde Park and Oxford Street. The Hotel is surrounded by everything you could want including great shops, restaurants, Olympic Pool, Gym, jogging track, parks gardens and galleries. You can also walk to Darling Harbour, China Town, City Shops, The Opera House and Rocks. There are deluxe and twin style rooms available. Facilities include Cafe and guest lounge, internet kiosk, guest kitchen and laundry.
ACCOMMODATION LOCATION MAP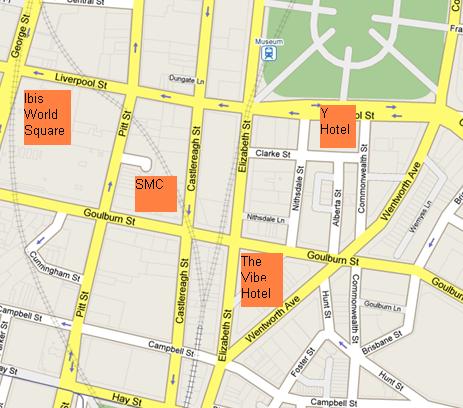 EARLY ARRIVALS
Standard hotel check in time in Australia is 1400. If you will be arriving earlier than 1400 and require your room upon arrival to the hotel, you may be required to book your room the night prior to ensure immediate occupancy. You will be required to pay an additional night's tariff should you wish to guarantee your room. Please advise the Conference Secretariat on your registration form if you are pre-booking your room for the night prior to your arrival so that your hotel can be informed.
LATE ARRIVALS
If you will be arriving to your hotel after 1800, please advise the Conference Secretariat on your registration form so that your hotel can be informed. If you do not alert the Conference Secretariat to your late arrival, the hotel may release your reservation.
DEPOSITS
All accommodation bookings must be accompanied with a deposit the equivalent of one night's tariff. This deposit will be forwarded on your behalf by the Conference Secretariat to the relevant hotel and used to confirm your accommodation booking. No bookings will be confirmed by the Conference Secretariat until one night's deposit has been received. Each delegate must settle the remainder of their accommodation upon check-out.
AMENDMENTS OR CANCELLATIONS
Availability for the Y Hotel cannot be guaranteed after the 15th March 2009. Accommodation will be booked on a case by case basis after this date.
All amendments or cancellations to your accommodation booking must be made with the Conference Secretariat and not directly to the hotel. All amendments or cancellations must be made in writing. Cancellations received after 1st June 2009 will not be refunded their accommodation deposit.