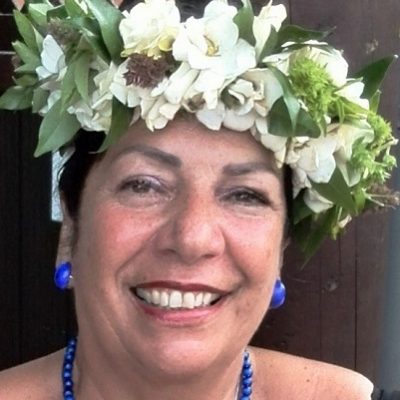 Imogen Ingram is of Polynesian and English descent and grew up bilingual. She has been invested with the traditional leader's title Te Pa Mataiapo of Takitumu in Rarotonga, Cook Islands. After university education in New Zealand, she worked there as an accountant before returning permanently to Rarotonga, where she became an environmental advocate. Her focus is on sustainable development issues, including the harmful impacts of climate change and pollution on ecosystems, particularly the ocean. Since the formation of Island Sustainability Alliance CIS Inc. ("ISACI") in 2005, she has worked to raise awareness in Pacific SIDS about the impacts of poorly managed of chemicals and wastes on human health and ecosystems. She has also implemented citizen-science projects, with assistance and capacity building from IPEN (International POPs Elimination Network) and National Toxics Network, Australia ("NTN"). Both networks have provided support for her advocacy work at both national and international levels on policy issues related to chemicals and wastes.
During early 2013, she worked with other local consultants to produce the Cook Islands National Policy on Solid & Hazardous Waste, which was endorsed by the Cook Islands Cabinet. She is a member of the Waste Management Committee, formed in 2016 which makes submissions to Infrastructure Cook Islands on environmental issues. 
Her international work is emphasised on implementation of the 2030 Sustainable Development Agenda and its SDGs. Another focus area is implementation of the UN conventions on chemicals and waste issues, in particular the Stockholm Convention on Persistent Organic Pollutants ("POPs"); hazardous substances in electrical and electronic waste (e-waste) under the Basel Convention; and highly-hazardous pesticides under the Rotterdam Convention. 
Since 2016, Imogen Ingram has led IPEN projects to obtain hair samples for analysis of methylmercury levels in Pacific Islands women. In 2017, she was nominated by IPEN to the UNEP Expert Group on Marine Plastic Litter & Microplastics, and out of this collaboration she contributed to a paper entitled "Marine litter plastics and microplastics and their toxic chemicals components: the need for urgent preventive measures" (Apr 2018).